2023 Fall Quarterly Meeting registration is now open for online registration!
The purpose of the Michigan Association of County Clerks (MACC) is to bring about a closer working relationship among the County Clerks throughout the State. MACC promotes a better understanding of the duties of the office of the County Clerk, which are governed by Statute, or otherwise invoked for administering the office. Further, the Association engages in all other activities necessary or appropriate to achieve the purposes of the MACC Articles of Incorporation so filed with the State of Michigan in 1977.
The office of the County Clerk was established by the Michigan State Constitution. The County Clerk is elected on a partisan basis for a four-year term.  Some Michigan County Clerks are also elected to serve as the Register of Deeds.  The combination of the Office of the County Clerk and Register of Deeds was established in the 1850 Constitution.
The Association promotes continuing education of its members through quarterly meetings and their annual conference to insure that all members are kept apprised of the ever changing Michigan Laws related to County Clerks and their offices.
The Role of County Clerk in County Government
The duties of the County Clerk are provided by Michigan Law, which include, but are not limited to: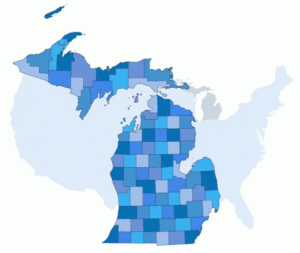 Clerk of the Court
Chief Election Official of the County
Clerk of the County Jury Board
Clerk of the County Board of Canvassers
Clerk of the County Board of Commissioners
Clerk of the County Apportionment Commission
Clerk of the County Election Commission
Clerk of the County Plat Board
Vital Records Registrar
The Michigan County Clerks have a myriad of responsibilities and are dedicated to providing excellent customer service.  We look forward to the opportunity to serve you!